Our league fixtures might be finished, and the playoffs may be drawing to a close… but the Glasgow Tigers' 2019 season isn't quite over yet.
The Dunfermline Kings will travel to Nethercraigs to take on Coach McCluskey's side as part of their bid to join the BAFA National Leagues in 2020 as part of the league's associate process.
The Kings have put together a seven game schedule with games against teams around the country as part of their bid to join the league.
Dunfermline will take on the Tigers at Nethercraigs on Sunday, September 15th with a 1pm kick-off. The two sides met at the start of the year in a joint practice and scrimmage session at the Kings home in Duloch Park, Dunfermline.
Their associate schedule for 2019 got under way in July with a game against the recently promoted Inverclyde Goliaths and the Tigers will be the side's third opponent.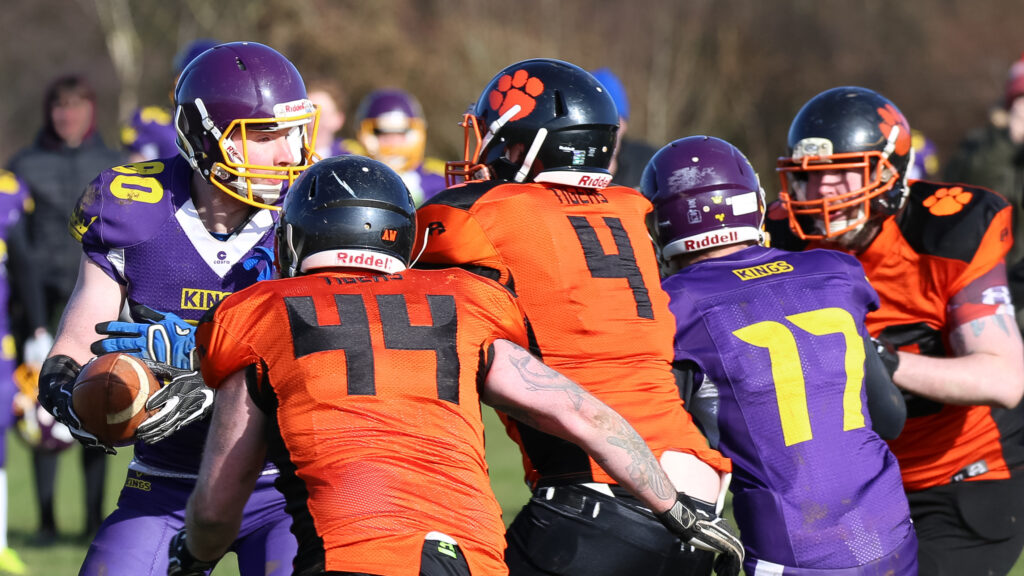 The Kings will also face fellow associate side the Highland Stags home and away, while also hosting the Aberdeen Roughnecks before finishing the year with a home and away double-header against the Aberdeen University Bulls.
The BAFA associate process aims to ensure teams are well-run and sustainable before being admitted to the league. Teams are judged on a series of requirements both on and off the field before being admitted to Division 2 of the National Leagues.
Dunfermline Kings are going through the 2019 associate process along with Etone Jaguars, Northants Knights, Hereford Stampede and Scunthorpe Alphas.
Inverclyde Goliaths and Darlington Steam both joined the NFC through the associate process before the start of the 2019 season.
Make sure to follow the Glasgow Tigers on Facebook, Twitter and Instagram for the latest news, including updates on training sessions ahead of the Kings game on September 15 at Nethercraigs.