Wide receiver Dan Matthews didn't wait long to make the first big play of the season for the Glasgow Tigers. The rookie connected with QB Jig McCoy early on in our season opener against Northumberland Vikings to notch up the first Tigers TD of the year.
Dan went on to earn his stripes with a series of impressive performances at wide receiver as well as filling in as a punt returner and emergency punter.
His season came to an unfortunate end after injury in the home fixture against the Vikings, but that didn't stop Dan from claiming the Offensive Rookie of the Year prize at the Tigers' end-of-season awards in October.
We caught up with him to ask about his rookie year, and why he would recommend the Tigers to anyone interested in American Football.
Tigers: What made you decide to join the Tigers?
Dan: I've been into watching American Football for around about eight years now and I've had a lot of experience in sports with similar skills requirements like rugby and basketball. I'd also done a lot of personal practice with throwing, running routes and catching the ball with friends, so I knew I was decent at receiving. I saw that the Tigers were having open training sessions and decided I would go along and see how it was.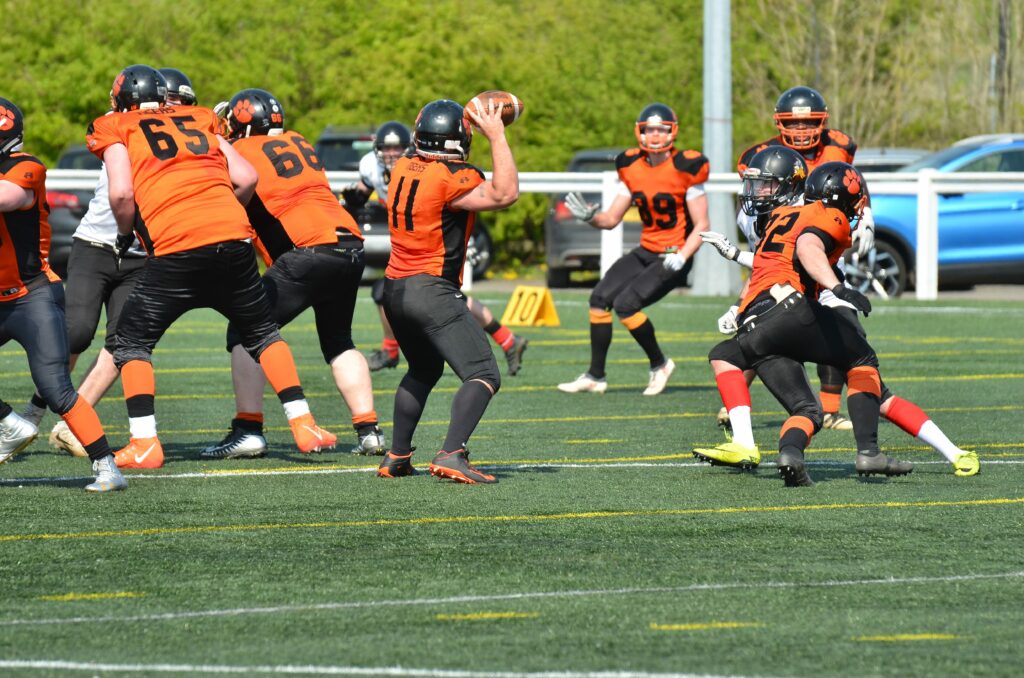 Tigers: What stood out for you in your first year of the team?
Dan: Probably scoring the first touchdown of the year away at Northumberland. I felt I'd had a bit of a shaky start to that game in terms of being a little out of rhythm and missing some blocks and I think that moment showcased that I could be a playmaker and helped me to settle down a bit and be more confident in the offence.
Tigers: What was the biggest hurdle for you?
Dan: I missed a bunch of games due to knee injuries and after game one, I was never really 100% even in the games I did play, so managing such an aggressive game while being physically limited was a constant challenge.
Tigers: Did anything surprise you once you had started with the team?
Dan: Probably how quickly I was able to adjust to playing in full pads and helmet. As a former rugby player, I was not used to having my mobility and vision restricted by equipment but after a few practices in pads, you adjust really quickly and pretty much forget you are even wearing them.
Tigers: Why would you recommend trying out to anyone thinking about it?
Dan: The team has a really good atmosphere and camaraderie, especially within position groups, and playing the sport itself is a lot of fun. American Football is such a diverse sport, in terms of the skill sets demanded for different positions, that almost anyone who has an interest in the sport will be able to find a position they will fit in at. Even if you're not the fastest, biggest, or strongest, chances are you have some traits that will be useful at one position or another.