As well as smashing records as a Kicker and hauling in passes at Tight End, Tigers veteran Jason Maclean has developed a reputation for his brightly-coloured practice gear amongst team-mates.
And his nickname – Skittles – matches his big personality, as a key member of the Tigers changing room over a number of seasons. After catching a touchdown pass in the final league game of 2019 against Yorkshire Academy Rams, and putting in an impressive performance against Dunfermline Kings in our post-season friendly, Jason has his sights set on leaving his mark on the Glasgow Tigers record books.
We caught up with Skittles during the COVID-19 lockdown to find out more about some of his favourite memories as a Tiger.
GlasgowTigersFootball.com: What's the story behind how you got involved with American Football?
Skittles: I was on a school exchange trip to America, in Pendleton, South Carolina, and the family I stayed with's boy played DE. One day he got a few of his friends together and we had a wee game of touch- I still remember Sam, the son, totally blindsiding his dad was absolutely hilarious.
Sam got me into playing Madden – at this point, all I knew about American football in 2004 was the Super Bowl. So I went the Patriots and Sam then said this is your team you follow them no changing. I tried it at Uni which I really enjoyed but just didn't have the time as I was captain of the football team, and football on Saturdays just couldn't fit it all in with training schedules.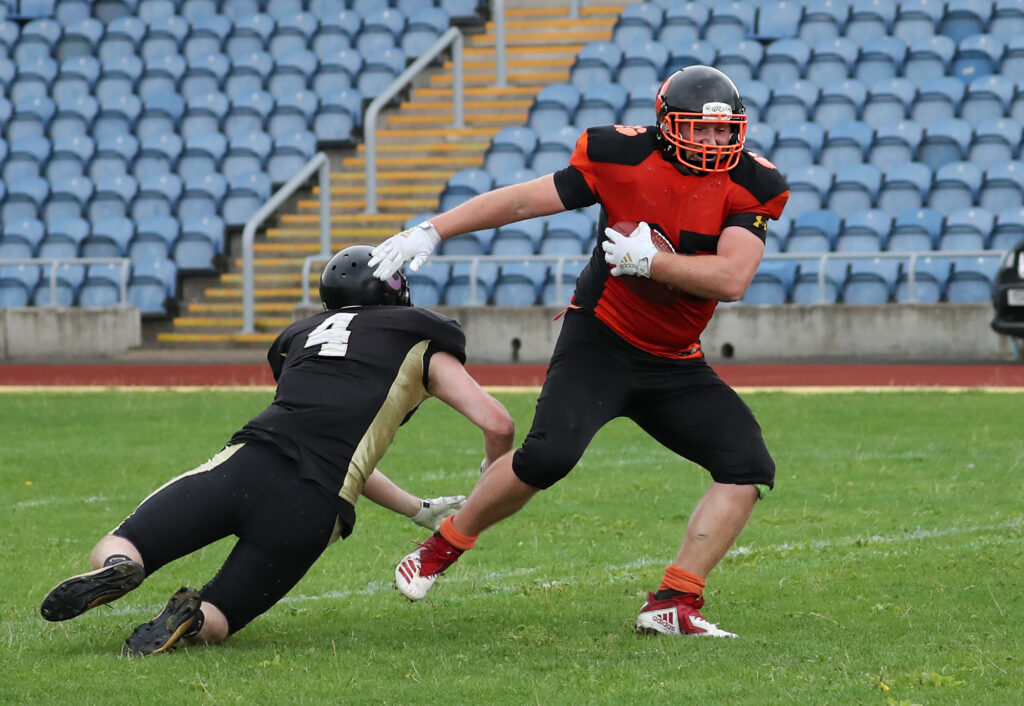 GT: What made you decide to play for the Tigers?
S: I saw a Facebook page for an open day – a couple of my mates were supposed to come along too, but bottled it last minute. I went myself because I wasn't missing an opportunity to play again (after uni).
GT: Describe how you felt before your first game – and how it turned out
S: My first game was away to Northumberland. We had a lineman dinner the Friday before, and our coach told us to just enjoy it, I was the youngest on the (offensive) line back then (and skinnier); we went on to win, I had a great block for the opening TD run and never looked back.
GT: What is your favourite story from your time with the Tigers?
S: None that can be repeated… Not so much a story, but the road to the Bowl Game season. We lost the first game, won a few close games during the season. I kicked 12 points in the semi final and then just the experience of the final definitely pulls on the feels.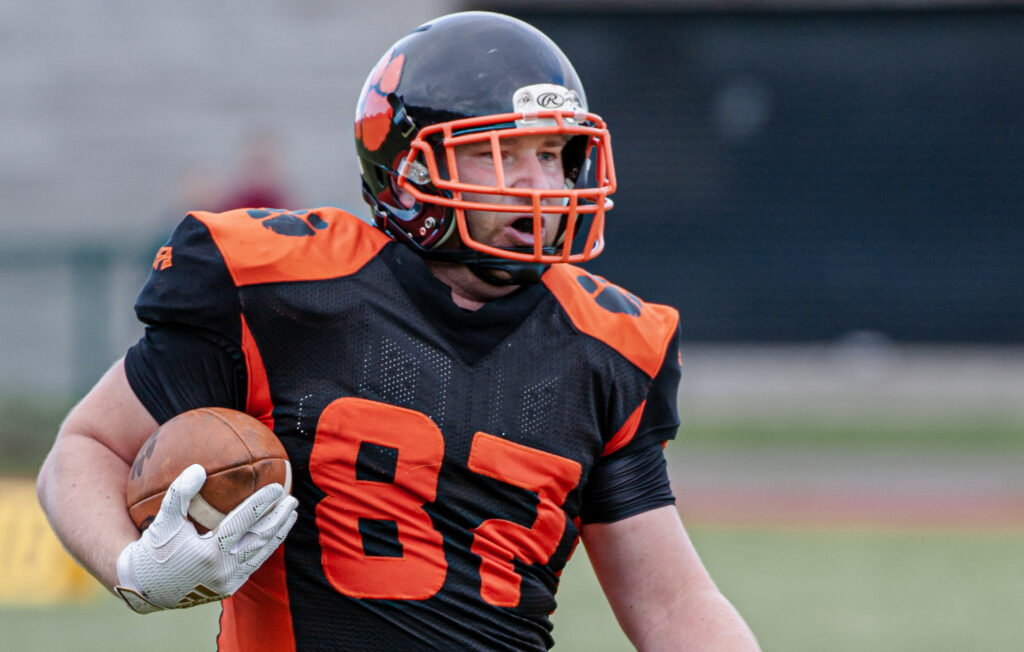 GT: What would you like to achieve in the sport by the time you hang up your boots?
S: I'd love to break Willie Clark's 42-yard field goal record, since I have the total kicker points in a season one… Learn as much as I can from Kenny (Muir) at TE and develop into a reliable target for the QB and maybe some more TD's along the way.
Quick fire round…
Best athlete – Jamie Baird
Worst gear – Euan MacLean
Best music taste – Me, obviously…
Biggest joker – Ryan Cassidy
Underrated – All Offensive Linemen