The Glasgow Tigers senior team was associated with the Strathclyde Posse, a youth flag football team set up in 2000. The team had some early success, beating the Dundee Storm to win the Scottish Claymores Winter Flag Football League in 2001.
A Glasgow Tigers Flag Football programme was established in the early 2000s with teams at cadet (under 13), junior (under 17) and youth (under 19) levels, all participating in the Scottish Flag Football Association leagues.
A youth kitted programme was in place from 2001 to 2008, participating in the British Youth American Football Association's and British American Football League competitions.
Since 2008 there had been no formal team in place – until 2017!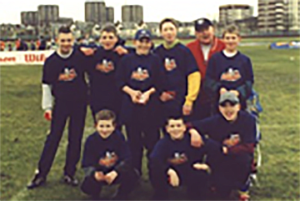 The Glasgow Tigers Academy was set up to re-establish youth American football under the banner of the Tigers family.
In 2017 we set up an under-17 flag football programme in Govan, the first of an anticipated four flag football programmes for the City.
In 2019 we will recruit additional coaches to expand our programme as we seek to add additional flag football teams and, in the longer term, establish under-17 contact football.
Flag football is a non-contact version of American football that teaches players some of the core skills and understanding that are necessary to progress to the other levels of the sport.  It is also a sport in its own right and has progression routes for players to play at a UK regional and international level.
Schools and community sessions
Where possible our volunteer coaches deliver sessions in the community and in schools to assist in growing awareness of the sport and offering entry routes into the team and the sport.  Since 2017 we have run 16 sessions in schools and community facilities in and around Glasgow.
We are currently recruiting to Head Coach and Assistant Coach positions for our flag football programme. The role descriptions below provide an overview of what each role involves and the application form below should be used to apply.
It is not an essential requirement for coaches to have a background in American football. In fact, we are keen to bring new people into a minority sport that is very reliant on a small number of people.
If you don't currently have the qualifications we will seek to fund these for you.
Our intention is to start by seeking expressions of interest from prospective coaches. Once applications have been submitted we will then identify the areas of Glasgow that the next teams will be based in.
If you would like to discuss the roles informally please contact us at the address below.
Contact e-mail: glasgowtigersacademy@gmail.com