In June 2017 we established the first of (hopefully!) four flag football programmes under the Glasgow Tigers banner. 
With no Scottish league to participate in it was always going to be a challenge but two years in we have built enough of a foundation to seek to expand.
In developing the programme we have rebranded to Glasgow Tigers Academy, in recognition of our larger plans to scale up to youth contact football, and in time, junior contact football.
We acknowledge the minority status of our sport and the history of teams that have come and gone, in and around Glasgow but also in Scotland.  This is why we've taken a measured approach in building the flag entry point to the sport in the first instance.
At present we have been running one under-17 youth flag football team in Govan.  We've been supported by Glasgow Life, the senior Tigers team and the good will and generosity of our volunteers, parents and supporters so far – not forgetting the other local teams in Scotland at Inverclyde and East Kilbride.
2019 has been a step forward as we recruited additional support in coaching and saw an influx of new players.  We hosted Inverclyde Ducks in January and also played in the Flagging New Year tournament with teams from across Scotland. 
In April and June our team travelled through to Hamilton to play the Hamilton Buccaneers flag team with Hamilton edging it in two wins in the first visit and the Tigers securing a win in the second.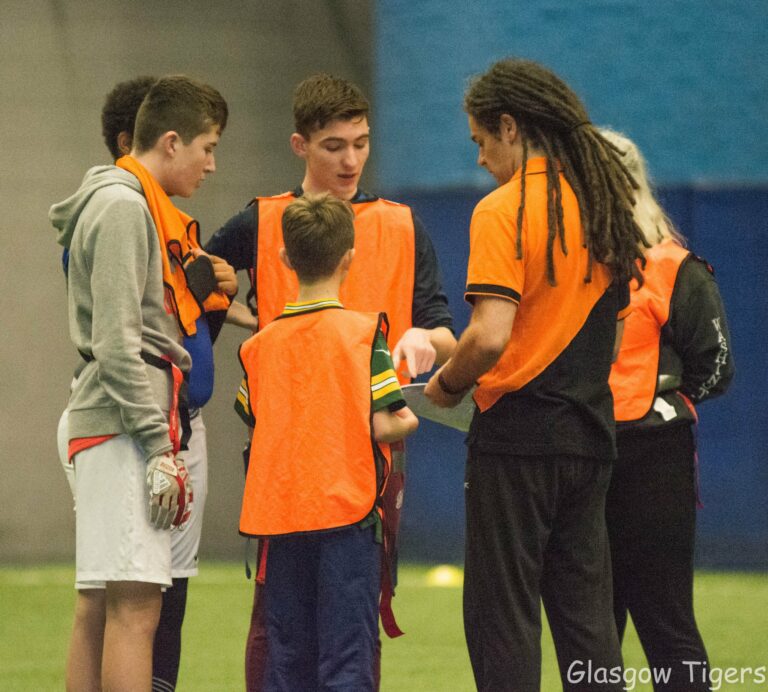 None of this would be possible without the efforts of the Academy volunteers.  This ranges from governance roles at the committee to coaches on the field.  To build a sustainable programme that isn't over-reliant on one person is a key priority and for that we need people!
We are recruiting to two specific positions at present: Head Coach and Assistant Coach for flag football.  At this moment we've taken a decision not to specify the locations or days on which the teams will operate as we believe in co-producing volunteer roles with the volunteers involved and want to spread opportunities for involvement across the week.
What we offer and what we are looking for
For players we want to provide a safe and enjoyable environment for them to succeed.  We want those things regardless of whether a players sees this as something to do on an evening or whether they see it as a platform to progress to higher levels.
For volunteers we offer a supported and developmental pathway into coaching.  We want you to succeed and develop as much as the players – and it's not all focussed on the field.  Our session plans and entire programme is outcome-focussed and we recognise the steps we need to take first in order to generate success on the field.
From coaches we are looking for commitment to the role, to improvement and a work ethic that is befitting of your position as a role model to young people.  These are not roles for egos, these are roles that require self-awareness and openness to reflect and improve.
If you think you have what it takes, contact us at glasgowtigersacademy@gmail.com.