The Glasgow Tigers locked horns with the Yorkshire Academy Rams in both teams' final game of the season – and neither held back in a close clash that went right down to the wire.
Defensive units for both sides came up big in a scoreless first quarter, with the Rams coming closest to opening the scoring when a field goal attempt fell short of the posts.
Ex-Tiger Nick Halfpenny was one of the Rams standouts in the first half, shutting down Tigers receivers in his cornerback role and making it difficult for Tigers QB Ally Kay to pick up yards through the air.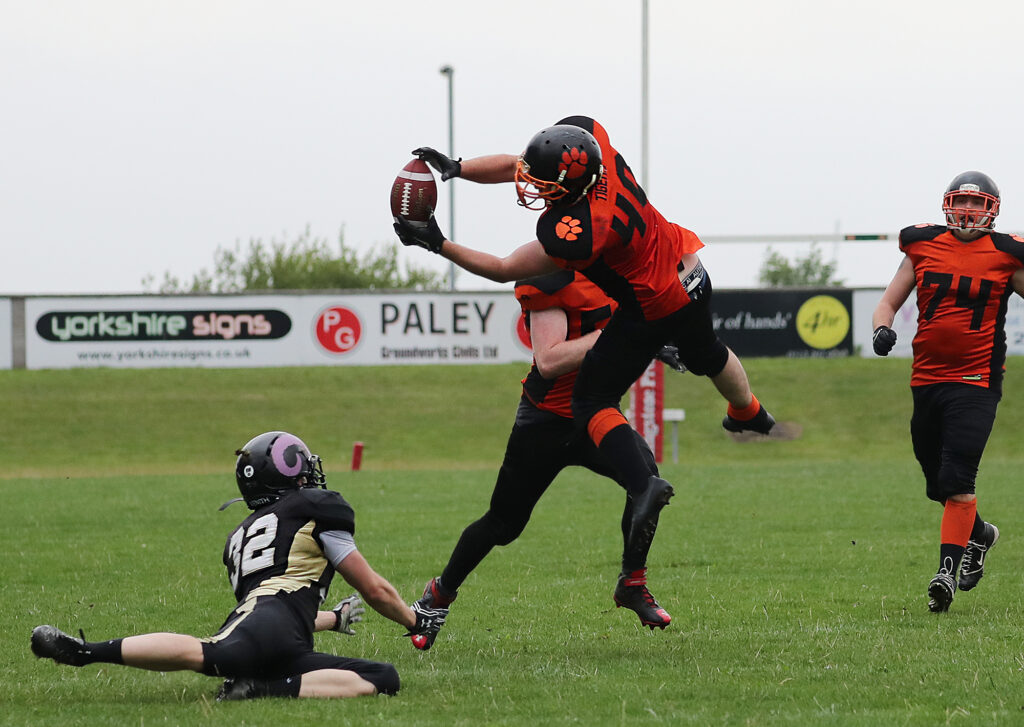 The Tigers were first to strike when Ally Kay found TE Jason Maclean in the end zone during the second quarter. The Tigers went for the extra point attempt and despite fumbling the snap, Ally Kay almost made it 8-0 when he was just inches away from finding wideout Marc Bruce.
The Rams were quick to reply, taking a one-point lead after bursting through for a 60-yard dash up the middle of the field before a successful extra point time to make it 7-6 to the hosts at the half.
The third quarter started out much like the first, with both teams performing well on defence and both offences finding positive yardage difficult to gain. This trend would continue for most of the second half, until Tigers DB Ryan Campbell picked off the Rams and ran the interception back for 56 yards to give his side excellent field position.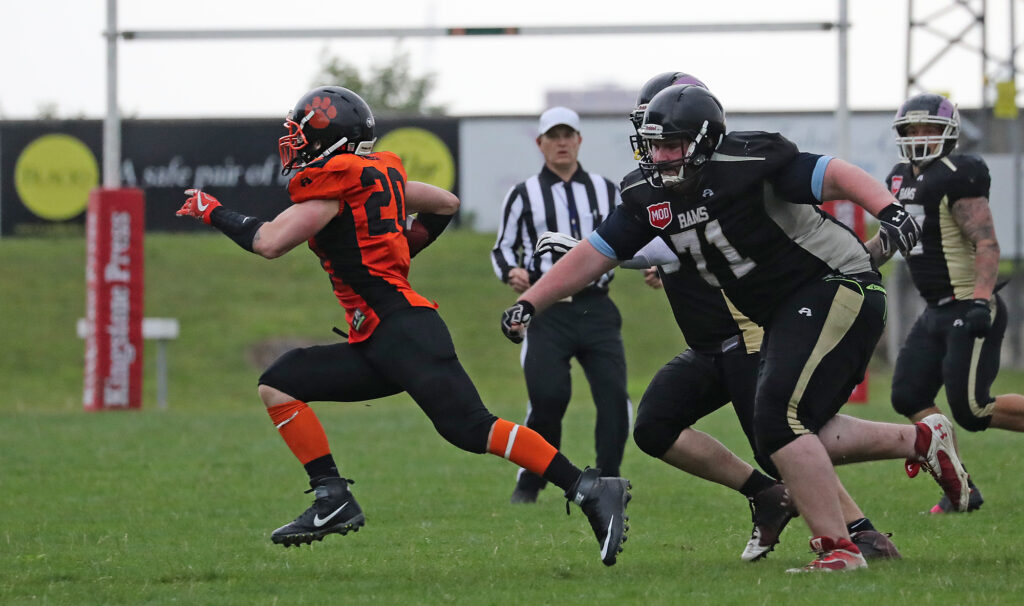 The ensuing drive proved successful as Blake Kyle powered in from four yards out. The Tigers looked to make it a seven-point game but the two-point attempt was stopped in its tracks by the Rams solid defence.
With the score sitting at 12-7 going into the final minute of the game, another big play from the Rams would prove to be the winner as the Yorkshire QB found a receiver over the top who sprinted 46 yards for the winning score.
A power run conversion added two more points, giving the Rams a 15-12 lead. The Tigers tried to rally one final time for the 2019 season, and moved down the field on big runs but were unable to get back into the game as a field goal attempt from 41 yards fell just short.
The Tigers finish 2019 with a 4-6 record, and a comfortable mid-table finish in the NFC 1 North. The squad have a few weeks of rest before getting back together in September for off-season activities and recruitment for next season. Make sure and follow the Glasgow Tigers on Facebook to get information on all our events and recruitment plans for next season.